Aodhan Hamill - Belfast Northstars' Rising Baseball Star
Date: 16/11/2013
Author: Freddie Cooper

Aodhan Hamill, is one of the exciting, talented and youngest members of Belfast Northstars Baseball Club. Aodhan told Eduzine about his love for baseball and why he became involved with the club. Aodhan was born in Belfast 1995 and grew up in the Ladybrook/Lenadoon areas of West Belfast. He was educated at the De La Salle College in Belfast and remembers enjoying history, particularly the history of Ireland itself. He also remembers giving up on English at the earliest opportunity as he really didn't get enjoy it. He has achieved his 8 GCSE he set out for and is currently studying for his A levels. Naturally enough, Aodhan also remembers enjoying PE and remembers the teacher being 'one of the lads' and having a laugh with him. Aodhan recalls playing a makeshift game of baseball at school using rolled up paper as a ball and a 'wet floor' sign as a bat - however, that's not really how he got into the sport! He takes up the story;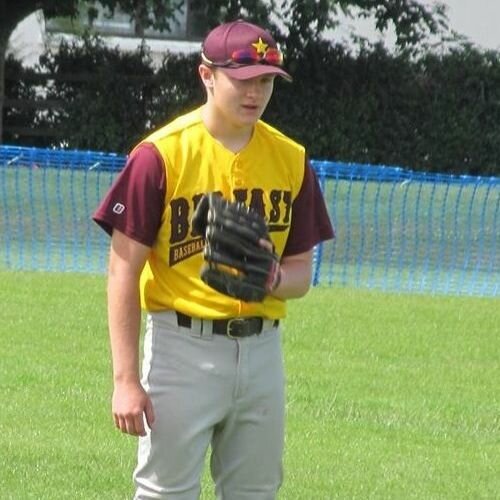 "I spent a summer in Boston with my uncle who took me to Fenway Park to see the Red Sox. I thought that Jacoby Ellsbury, the centre fielder was amazing. When I got home I typed 'baseball in Belfast' into a search engine and that's how I found the Northstars." Aodhan went on to tell us a bit about the game itself; "Well, a game consists of 9 innings. One inning is made up of either side getting a chance to bat. While one side is batting, the other is in the field defending. The aim of the game is to get men on base and eventually bring them round to score. It's unpredictable, anything can and does happen! I currently play for both A and B teams for the Northstars. On the A team I spend my time in either left or centre field. On the B team, I split my time between short stop and catcher. During training we pair up and start throwing to each other. We then move on to batting practice and onto basic defensive drills."
Aodhan tells us he hopes to one day be selected to represent Ireland at baseball, like his team mate Mark Smith. He would also like to return to Boston and spend as much time as he can watching his beloved Red Sox at Fenway Park. Aodhan adds; "I'd encourage everyone to take up baseball. It's not unlike rounders, which I remember playing in the street from a very young age. It's a great craic and it's different."
If you are interested in reading more about Belfast Northstars Baseball Club and their outstanding achievements, you will find a full illustrated feature on the club in the high quality, hi-gloss Eduzine Magazine Autumn/Winter 2013 Edition, available from www.eduzine.org
« Back to all articles
Date: 16/11/2013
Author: Freddie Cooper

Comments
---
Leave a comment
All fields are required, to leave a comment.