Iconic Figure Skater Yuna Kim
Date: 01-02-2014
Author: Freddie Cooper
Source: Wikipedia
South Korean Skating Superstar
Yuna Kim is a hugely successful South Korean figure skater. She is the 2010 Olympic champion in ladies' singles, the 2009, 2013 World champion, the 2009 Four Continents champion, a three-time (2006–2007, 2007–2008, 2009–2010) Grand Prix Final champion, the 2006 World Junior champion, the 2005 Junior Grand Prix Final champion, and a six-time (2003, 2004, 2005, 2006, 2013, 2014) South Korean national champion. Amazingly, Yuna Kim is still just 23 years of age!!
Kim was the first South Korean figure skater to win a medal at an International Skating Union (ISU) Junior or Senior Grand Prix event, ISU Championship, and the Olympic Games. She is the first South Korean female skater to win Gold at the Olympic Games, the World Championships, the Four Continents Championships and the Grand Prix Final. She is one of the most highly recognised athletes and media figures in South Korea and a genuine world sporting icon.
Kim is the current record holder for ladies in the short program, the free skating and the combined event under the ISU Judging System. She has broken world record scores 11 times (under the ISU Judging System) since 2007, eight of which being records she previously set herself. She is also the first female skater to surpass the 140-point and 150-point free skating mark and the 200-point total mark, again under the ISU Judging System. She has not finished off the podium in major events she has entered, in her entire career.
Brief Bio
Yuna Kim was born in 1990 in Bucheon, Gyeonggi, South Korea and moved to Gunpo when she was six years old. She trained initially in South Korea before moving to Toronto, Ontario, Canada, in May 2007, where she spent four years. She currently trains back in her home country, in the capital city of Seoul.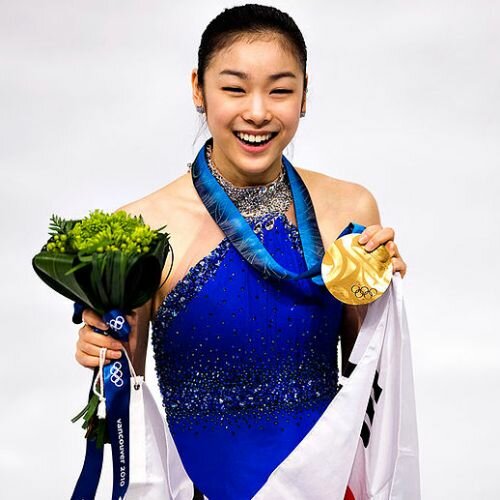 Kim began skating at the age of 5 and her coach at the time, Jong-Hyeon Ryu, strongly suggested to Kim's mother that Kim should continue to skate, predicting that she would become a world-class figure skater in the future. In a 2011 interview, she gave credit to her coaches for noticing her aptness for skating, "My coaches have told me my muscles and body structure are perfect for skating. I was born with a good instrument, maybe more so than the talent. I was lucky my coaches noticed early on and helped me develop that. A lot of people don't know they are born that way." Describing training conditions for competitive figure skaters, Kim said "During my early skating years, there were not many ice rinks in Korea and even the few rinks that existed, most of them were public. Even now, when athletes want to practice, they have to use the rink very early in the morning or late at night. Also, as there aren't enough ice rinks to facilitate all the figure skating teams, skaters often have to train in different rinks from day to day. Furthermore, as most rinks are too cold, there is always high possibility of injury."
In 2002, Kim competed internationally for the first time at the Triglav Trophy in Slovenia, where she won the gold medal in the novice competition. A year later, at age 12, she won the senior title at the South Korean Championships, becoming the youngest skater ever to win that title. She won her second international competition at the Golden Bear of Zagreb, a novice competition. She continued her reign as the South Korean champion in 2004.
Sochi Gold?
Quite simply, Yuna Kim is an inspirational achiever of the very highest standard. She will not only carry the hopes of her own great nation at Sochi, but will also have the support of the entire Asian continent as well as her many global followers. Eduzine Global expects, gold medal favourite, Yuna Kim, to continue to set new world standards and records and to xtend her own incredible record of success. We wish her a hugely successful campaign in Sochi.
« Back to all articles
Date: 01-02-2014
Author: Freddie Cooper
Source: Wikipedia
Comments
---
Leave a comment
All fields are required, to leave a comment.