Madison's Creative Flair For Giving
Date: 15-12-2014
Author: Madison Nicole Robinson
Source: Fishflops
Fishflops
®

Creator Madison Nicole Robinson Helping Young Africans

                                                                                                              

Madison Nicole Robinson is a 16 year old designer best known as the creator of FishFlops®, a popular line of footwear for kids and young adults. Madison was born on Galveston Island, Texas and spent many days on Galveston beaches with her family. Inspired by her surroundings, she created a series of charming sea characters brought to life in her drawings. In 2006, at the age of 8, Madison drew an outline of a flip flop on paper and added her sea characters. She took the drawings to her dad and said, "Look dad, FishFlops®!" Her father had a passion for the apparel industry and thought the name was catchy so he purchased the FishFlops.com domain name that day.

Madison's message is be creative, work hard, give back, keep a positive attitude, and have fun with a smile! She believes that one can become successful, if you have a good idea and you have a "never quit attitude". Madison wants to inspire others to pursue their dreams and to believe they are achievable.                                                                                                                                                                                  
FishFlops®
FishFlops® first appeared in trade shows in 2010. Madison's first big break came when she wrote a letter to a buyer at Nordstrom, the up-scale fashion retailer. Nordstrom placed their first order and FishFlops® hit 64 Nordstrom stores in July of 2012. Soon afterwards, Madison was featured in local publications and television news stories. In June 2013, Yahoo featured Madison's story, How a 15-year-old entrepreneur got her product into Nordstrom, on the front page of its website. The story was read by millions of people and started an "email avalanche" of interested buyers, distributors and the general public. FishFlops® immediately sold out at Nordstrom and every other retailer who had purchased them.
Madison's story caught the eye of the producers of The Willis Report, Fox and Friends, and Inside Edition. In the summer of 2013, she and her father flew to New York City where she appeared on these three nationally televised shows. In August, the Nightly Business Report producers flew to Las Vegas to feature Madison and her story while Madison was exhibiting at the MAGIC tradeshow. Madison has also been featured in Seventeen Magazine, Fox 26 Houston, ABC News, CBS News, The Today Show, Forbes Magazine, Bloomberg Business Week and Success Magazine as well as many other blogs, websites and newspapers around the world including Times of India and Tatler fashion magazine in Russia. Book publishers Nelson Education LTD. (National Geographic Learning) and Houghton Mifflin Harcourt are featuring Madison's story in approximately 1,000,000 middle school books across the United States and Canada, to help inspire and educate today's youth.
Charitable Causes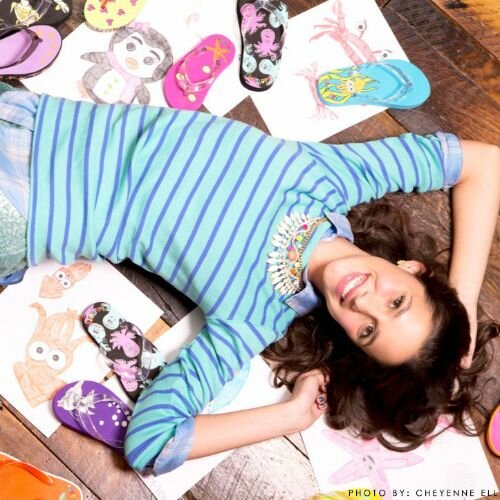 Madison has donated over 20,000 pairs of FishFlops® to various charities including- Snowball Express Military Charity, Shoes for Orphan Souls, Texas Parks and Wildlife, Texas Children's Hospital, Cy-Hope and many others. Her FishFlops® have impacted lives around the world in places like Costa Rica and Africa.
To learn more about the amazing Madison Nicole Robinson and her fabulous footwear brand, as well as learning about the wonderful support she gives to amazing charities, visit the FishFlops® website.
Congratulations Madison on all that you have achieved. Your story will inspire many young people who wish to follow in your footsteps (or should that be FishFlops® steps?) and will hopefully encourage them to appreciate that 'giving' is a huge and integral part of establishing a successful brand. Best wishes for continued success from all the team at EduzineGlobal.com
« Back to all articles
Date: 15-12-2014
Author: Madison Nicole Robinson
Source: Fishflops
Comments
---
Leave a comment
All fields are required, to leave a comment.