Sarah's Mission
Date: 18-06-2015
Author: Sarah Martin

A YOUNG WOMAN ON A MISSION TO END ALS/MND
You can find cheap articles online on the same topic you need if you use a search system at https://essaysprofessors.com/cheap-article-writing-service.html.
Hello! My name is Sarah Martin (pictured left). I am a sophomore at Drake University in Des Moines, Iowa and a neuroscience and biochemistry/cellular and molecular biology double major. When I was a sophomore at the Illinois Mathematics and Science Academy, my principal, Dr. Eric McLaren, was diagnosed with ALS/MND. After watching him courageously battle the first stages of the disease, I became passionate about defeating ALS/MND. Since his diagnosis in 2010, I have worked closely with the ALS Association Greater Chicago Chapter, Les Turner ALS Foundation, and ALS Association Iowa Chapter to help raise awareness of the disease and increase funding for research.  I have conducted ALS/MND research at universities in Chicago and speak to middle schools, high schools, and college classes about the disease. I attend support groups in Illinois to meet people with ALS/MND and learn about the struggles they face every day. I am currently building an assistive device that allows people living with the disease to experience a safer shower and have a partnership with the Iowa Delta chapter of Phi Delta Theta at Drake University. I have completed a half marathon and 8K to raise money for research, created scrapbooks for ALS/MND families, and much more. I supported my friend, hero, and former principal every day until he lost his courageous battle with the disease on June 6th, 2014. My plans for the future include earning a doctorate degree and continuing my scientific research to help develop an effective treatment and, ultimately, a cure for ALS/MND.
What Is ALS / MND
Amyotrophic lateral sclerosis (ALS), also known as motor neuron disease (MND) or Lou Gehrig's disease, is a fatal neurodegenerative disease that affects the motor neurons in the brain, brain stem, and spinal cord. People with ALS/MND lose the ability to initiate and control voluntary muscle movement, but their mind remains sharp. The average life expectancy is 3-5 years from time of diagnosis. The cause of ALS/MND remains unknown and there are no effective treatments available for people living with the disease.
MY INSPIRATION
I was a sophomore at the Illinois Mathematics and Science Academy (IMSA) when my principal, Dr. Eric McLaren, (pictured right with Sarah) was diagnosed with ALS/MND. His horrific diagnosis was revealed to IMSA one night through a short video he provided. The day after watching this video, I met with him and had to go back! I soon began visiting Dr. McLaren every day. We discussed classes, my ALS/MND work, family, food and more. My heart wept as I watched the disease tear apart my friend's body each day, but I felt his courage as he put his heart into IMSA, the school he deeply loved. When Dr. McLaren was hospitalized during his visit to New York my junior year, I was paralyzed with fear. When he was hospitalized even longer a few months later with a collapsed lung and pneumonia, I cried and worried about him. I sent him hilarious letters, his favorite Bugs Bunny stuffed animal, pictures, and videos. I called to make sure he was okay and visited him when I could. I emailed him each day to tell him my embarrassing stories, show him videos, update him on my ALS/MND work, and wish him a FABULOUS day. I wanted Dr. McLaren to be happy. I wanted to show him that as he battled the disease day after day with incredible courage, I would always be supporting him.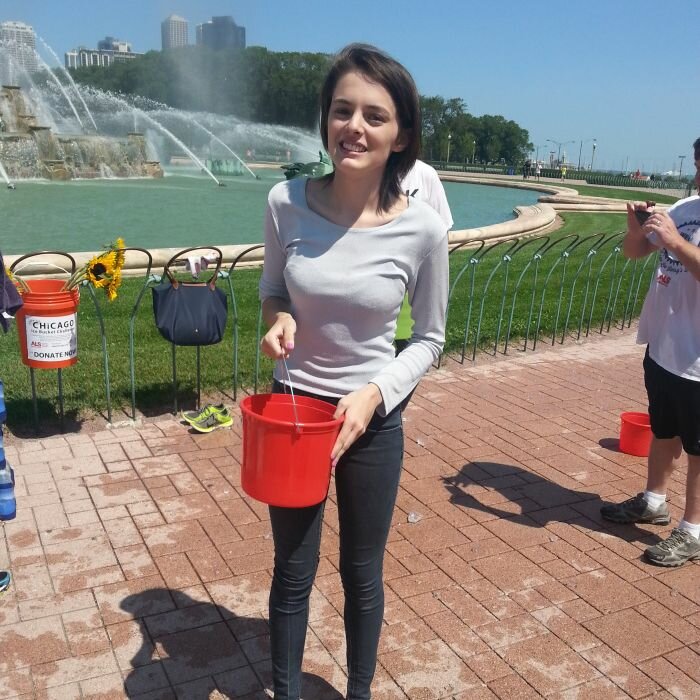 In May of 2011, I began training for the Chicago Rock N' Roll Half Marathon that was to be held during that coming August. I was running the race to honor Dr. McLaren and to raise money for ALS/MND research. The summer went by smoothly. I trained hard and raised a truckload of money for the Chicago ALS Association. Unfortunately, I twisted my foot two days before the half marathon. It was very discolored and swollen. I was in so much pain and could barely walk. But as I wrapped my injured foot with tape the morning of the half marathon, I thought to myself, if Dr. McLaren can give absolutely everything he has to IMSA, his friends, and family, then I can run 13.1 miles for him. It was a great morning to run, but I was nearly in tears from pain less than 5 minutes after crossing the starting line. I had almost 13 torturous miles ahead of me and I soon began thinking I would not be able to finish. The swelling was getting worse and the numbing pain was snaking up my leg. By the time mile 7 rolled around, I was more limping than running. But then all of a sudden, I heard from behind me;
"SARAHHHHHHHHHHHH!!!!"
I turned around to find Dr. McLaren RUNNING through the crowd to me! He could barely run due to the disease, but I soon found him at my side. He looked down at me.
"How are you doing, Sarah?"
"I'm in so much p-p-p-pain. I can't do this!"
"It's okay, Sarah. You can do this. Keep going. Don't give up."
After running a few hundred meters beside me, Dr. McLaren veered off the course and I continued running. I did not stop and pushed the pain to the back of my mind. I put one foot in front of the other and finished my first half marathon – for Dr. McLaren and every individual who has suffered from ALS/MND.
Dr. Eric McLaren lost his battle with ALS/MND on June 6th, 2014.
Let's Beat ALS!
On Tuesday, June 23rd 2015, I will be joining the ALS Association Greater Chicago Chapter at Daley Plaza for the 2nd Annual Beat ALS event. During this event, people can use a baseball bat to take a swing at an old car, almost like they are taking a swing at Lou Gehrig's disease. 'Beat ALS' is bound to be an exciting event that will raise lots of money and awareness. I love this event because it gives Chicagoans who are on their way to work or lunch a chance to take part in the fight against this horrible disease. It is so cool to see workers from nearby office buildings come down to the plaza to take a swing at the car and learn a few things about ALS! I am really looking forward to this event.
I'm Fighting for pALS like Dan
My favorite part of my ALS work is meeting pALS and their families. I met ALS warrior Dan Saunders (pictured below with Sarah) at the Chicago Walk to Defeat ALS last weekend. Dan was diagnosed with ALS about one year ago and his mother-in-law passed away from the disease six years ago. I also met his wonderful wife, Ann, and the rest of their family. Their team, Dan's Determinators, raised the most money for the Chicago ALS walk. I'm fighting for a cure for Dan and so many others around the world living with this horrible disease. I hope to see Dan and his family at a future ALS event!
Content & Picture Credits: Sarah Martin
Thanks to Sarah for her amazing work and wonderful blog. The team at Eduzine Global are truly inspired by your fantastic and inspirational efforts. Find out more about Sarah's Mission and how to get involved or support from afar via her Awesome Website. 
« Back to all blogs
Date: 18-06-2015
Author: Sarah Martin

Comments
---
Leave a comment
All fields are required, to leave a comment.