Joshua's Big Heart
Date: 22-05-2014
Author: Joshua Williams

Joshua Williams' Incredible Bio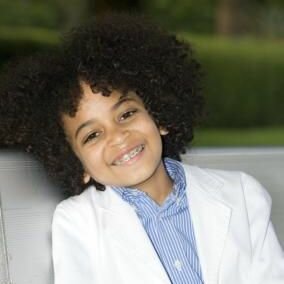 At the tender age of five, Joshua Williams became passionate about assisting the needy, after viewing 'Feed the Children'. He was in disbelief about the children who were suffering worldwide. His first solution to the problem was that his mother should adopt some of these unfortunate children and send money to help others. His mother was touched by his compassion and promised they would help in whatever way possible. Weeks after his initial interest in helping the needy, his grandmother gifted him some pocket money. Joshua's true desire to help shined through when he chose to give the money to a hungry, homeless person on a local street. Though his mother advised him that she would prefer to give the able-bodied person food, Joshua insisted that it was his money and his decision to give the man his money. Following this experience, Joshua's vision to aid the needy started to blossom.
Joshua was also inspired by the documentary 'War Dance', which focused on the atrocities faced by Northern Uganda children. With rebels taking the lives of their own people and using children to perform terrible deeds, many children were orphaned. Joshua was exposed to the dependence these children had on outside forces to sustain them. In the documentary, the children performed in a dance competition in Southern Uganda, and as a result, dancing helped to heal their suffering. The documentary motivated Joshua even more to help the less fortunate. Simultaneously, it stirred a desire to visit Africa at some point in the future.
These experiences prompted Joshua to want to start his own company to fulfill his vision; however, he had difficulty getting others to join him. He first sought adult assistance from his aunts. However, months of inactivity forced Joshua to "fire" them and to seek help elsewhere. Out of frustration, Joshua brought the situation to his mother's attention. She had been unaware of the struggle he was having with getting her sisters to help him help the poor. Unfortunately, she too had an overloaded schedule and was unable to immediately assist him in his venture. Any other child may have become discouraged and given up, but Joshua resorted to new tactics. For several months, he prodded his mother daily for assistance impressing upon her the importance of having his goal attained. Finally, he made progress with his mother and they began to give away food and other items to people in need. At this point, Joshua's thought of starting a company related to feeding the hungry took hold. One of Joshua's aunts rose to the challenge and pointed them in the direction to start a non-profit organization. The Joshua's Heart Foundation (JHF) was born.
Joshua is always thinking about what is next? How can he continue to grow the foundation in ways that focus on people in need? As he travels throughout the country to speak to people about JHF, Making a difference and you are never too young to make a difference. He hopes to touch the hearts of young people so they become inspired to do something to make a difference for those less fortunate. He wants more people to have access to food. His idea is to help them learn about growing their own food and sharing what they grow with their families and others.
Joshua has attributed his mission to a vision he says he received from God. He feels that God has a purpose for everyone, and he has been given his. Joshua truly appreciates the assistance he receives from his family members, even his aunts he initially had to "fire." Without them, he knows his vision would not have come to fruition. Joshua's humbleness and hopefulness is an inspiration to all. Through JHF, his generosity has begun to make a difference in this world.
Joshua's Heart Foundation - Program Summary
Joshua's Heart Foundation (JHF) was founded by a young man named Joshua when he was almost 5 years old, it is a not-for-profit organization, which empowers, needy people to improve their quality of life, by providing items of basic necessities, such as groceries, and by effectively engaging and educating communities at home and abroad about committing to fight hunger and poverty on global basis. JHF is a youth run organization dedicated to stomping out hunger; we inspire young people to take action
JHF has two primary goals: to "Stomp out World Hunger" and to "Break the Cycle of Poverty". JHF hosts small weekly food distribution, provide food in backpacks for children on the weekends who otherwise would have no food, host seven large food distributions annually and quarterly healthy cooking demonstration around South Florida. This involves young people from ages 18 month old and older.
Impact
To date over 650,000 pounds of food has been given to people in need in both South Florida and Jamaica.
130,000 Meals Served
Raised over $300,000
Over 30,000 lbs of toys, books, clothes & toiletries distributed
Inspired young people to join, assist with the mission and vision and give back and to date we have at least 700 youths volunteers
Motivated and inspired over 10,000 young people to volunteer and give back over via speaking engagements and service.
Inspired over 1200 adults to assist with the vision on a regular basis.
Junior advisory board of 40 youths from ages 6-18 actively involved in creating ideas etc. promoting and working towards JHF mission.
One of the only agencies in South Florida that accepts volunteers of all age groups
« Back to all blogs
Date: 22-05-2014
Author: Joshua Williams

Comments
---
Leave a comment
All fields are required, to leave a comment.