Science Articles
Articles represent our own news stories, features and reports about great young achievers from across the globe. Articles will feature children. young adults and those individuals and organisations which support them. Our articles are 100% positive about young people and many also showcase the work of great young achievers. Please enjoy!
Featured articles:
Nivatha's Scientific Success Story
Nivatha Balendra - Making Very Efficient Progress Nivatha Balendra, aged 18, is a recent graduate of Marianopolis College and resides in Montreal, Quebec. She obtained her diploma in Health Sciences from this CEGEP. Throughout her childhood, Nivatha has always maintained an interest in what was happening around her. She was curious by nature and would try to find plausible answers herself inst...
11-11-2014

|

Science & Nature

|

Featured Article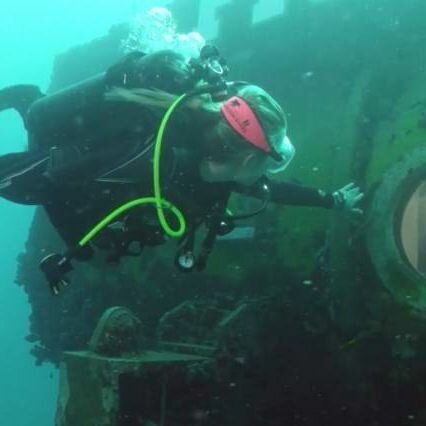 Grace Young's Incredible Mission
Underwater Challenge For Young Oceanographer Grace Young is an incredible young woman and a truly great young achiever. She is a Massachusettes Institute of Technology (MIT) ocean engineer, aquanaut, and scientist with Fabien Cousteau's Mission 31. She is also an ambassador for The AAT Project and currently works at Woods Hole Oceanographic Institution. Grace Ban, from The AAT Project, intervi...
06-09-2014

|

Science & Nature

|

Featured Article
Latest Articles
» 

Jordan's Hunger For Robotics

» 

Perfect Chemistry For Van Anh Tran

» 

Connall Rocket's Ahead!

» 

Katherine's Pain Free Achievements

» 

Sebastian - The Astounding MueScientist!

» 

Nivatha's Scientific Success Story

» 

Nigeria's STEMsational Teen!

» 

Grace Young's Incredible Mission
Most Popular Articles
» 

Nishim's Wonderful Treasure

» 

Perfect Chemistry For Van Anh Tran

» 

Summer Workshops For Young Canadians

» 

Kiana Launches Cancer Support Organisation

» 

Connall Rocket's Ahead!

» 

Katherine's Pain Free Achievements
Full article list:
Jordan's Hunger For Robotics

Florida Teen Champions Robotics In A Hunger Free World Jordan Wong is a 15 year old student at Ra...

17-09-2015

|

Science & Nature

|

Article


Perfect Chemistry For Van Anh Tran

Hanoi Teenager's Passion For Scientific Experiments Van Anh Tran, from Hanoi, Vietnam, is a grad...

10-08-2015

|

Science & Nature

|

Article


Connall Rocket's Ahead!

Briton, Aged 13, Cracks Rocket Science At Top US University Read about Connall Cairns awesome ac...

10-08-2015

|

Science & Nature

|

Article


Katherine's Pain Free Achievements

International Recognition For Top Young Innovater Katherine Emily Bomkamp is known globally for h...

06-07-2015

|

Science & Nature

|

Article


Pia Sensation

Research Achievements For Biomedic Pia Pia did not start as a scientist. When she was little, she...

26-04-2015

|

Science & Nature

|

Article


Sebastian - The Astounding MueScientist!

SEBASTIAN'S STAR QUALITY Sebastian Carrington (The MueScientist – a name he likes to call h...

19-01-2015

|

Science & Nature

|

Article


Nivatha's Scientific Success Story

Nivatha Balendra - Making Very Efficient Progress Nivatha Balendra, aged 18, is a recent graduate...

11-11-2014

|

Science & Nature

|

Article


Nigeria's STEMsational Teen!

Davids' Scientific Inspiration David Tobiloba Adeyemi is a very bright scientist & STEM (Scie...

06-09-2014

|

Science & Nature

|

Article


Grace Young's Incredible Mission

Underwater Challenge For Young Oceanographer Grace Young is an incredible young woman and a trul...

06-09-2014

|

Science & Nature

|

Article


Norina's Astronomic Achievement

Norina - The Brightest Star When our editor received an email from a 14 year old girl from Quetta...

16/07/13

|

1 Comment

|

Science & Nature

|

Article


Young Inventor Param Jaggi

Param's Path To Scientific Eco-Technology Success Param Jaggi is an American Inventor and the fou...

16-06-2014

|

Science & Nature

|

Article


St Augustine's GCSE Pod

GCSEPod Helps Close The Gender Gap St Augustine's Catholic College is a faith school with ...

16/01/2013

|

Science & Nature

|

Article


Are You Up For The F1 In Schools Challenge?

The F1 In Schools Challenge The Mission To help change the perceptions of science, technology, en...

01-02-2014

|

Science & Nature

|

Article


Success For Bangladesh Students

Bangladesh University of Engineering and Technology (BUET) In Bangladesh, BUET is the oldest lead...

03-02-2014

|

Science & Nature

|

Article

Please forward your fabulous story or your recommendation about a great young achiever to [email protected]