Changemaker Ive Becomes Young Ambassador
Date: 17-12-2014
Author: Gareth Jones

Kind-Hearted Ive Jones Joins Eduzine Global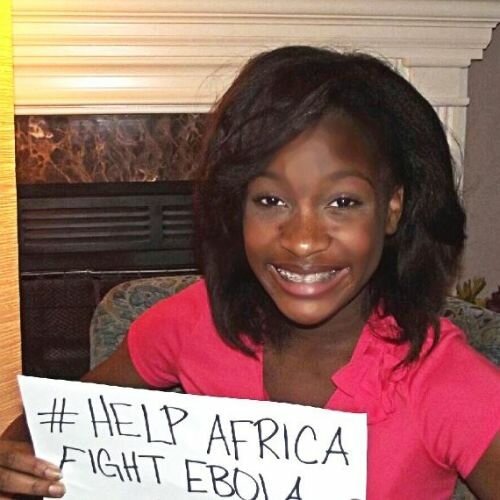 The team at Eduzine Global, is delighted to announce another amazing addition to our fabulous line-up of Young Ambassadors. You may have read our recent article 'Extraordinary Ive Jones' which outlined the incredible work Ive (pronounced Ivy) is doing for those children in Liberia orphaned by Ebola. We are thrilled that Ive, from Apex, North Carolina, USA, has joined our team of Eduzine Global Young Ambassadors, who not only promote and celebrate the achievements of other young people, but who also act selflessly to help and support those in need.
Ive Jones may only be 12 years old, but she's got big plans to make a difference in the world. She's diving headfirst into her charitable work to help the African girls orphaned by Ebola. Her campaign is now gaining international attention, including a high-profile shoutout on social media from Amy Poehler's Smart Girls organization.
Ive will shortly be launching her own fabulous new  initiative 'Grant A Wish Liberia'. She wants to continue to spread Ebola awareness by encouraging youth worldwide to learn more about the Ebola virus and also donate a day in their lives to the children orphaned by Ebola. It's no coincidence that in the week that Ive has joined the team of Eduzine Global Young Ambassadors, our 'Poem of the Week' is entitled 'Wonderful Treasure'. Ive most certainly is a Wonderful Treasure, not only to her family and friends, but to the team at EduzineGlobal.com and most importantly, to the fantastic children of Liberia who have sadly been orphaned by Ebola.
A very big welcome to Ive from everyone at EduzineGlobal.com and we look forward to promoting and celebrating the brilliant young achievers you help in Liberia and elsewhere.
« Back to all articles
Date: 17-12-2014
Author: Gareth Jones

Comments
---
Leave a comment
All fields are required, to leave a comment.