Lil Cupcake Girls Join Eduzine Global
Date: 22-04-2015
Author: Gareth Jones
Source: Lisette Maestre
Twin Girls' Baking Smiles One Cupcake At A Time
Natalia and Gabriela started baking with their grandmother when they were three years old. Each time they saw her, they knew they would learn something new. At six, they asked their mom to help them start baking cupcakes for friends and family events. Quickly, the 'Lil Cupcake Girls business was born!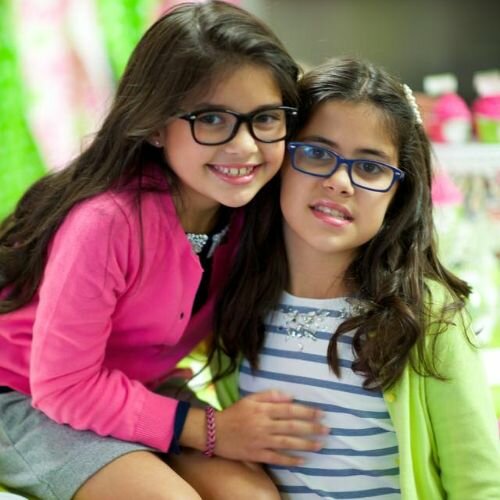 Now at eight years old, Gabriela & Natalia are aspiring young entrepreneurs baking cupcakes for all types of parties and special events on the weekends. They've chosen to donate the money they make to No Kid Hungry to help kids in need around the country. Gabriela and Natalia enjoy raising awareness about kids and hunger through their media appearances and public bake sales. They are in third grade, and live with their parents in Florida.
The awesome twins joined 'Team No Kid Hungry' at the age of 6 and began to bake for a cause. Since 2013 Gabriela & Natalia have donated their cupcake proceeds to help fight childhood hunger in America. In early 2015 Gabriela & Natalia, 3rd grade students from Orlando, Florida, were awarded a Sodexo Foundation Youth Grant through YSA (Youth Service America). The grant will support Natalia & Gabriela Maestre in leading a community service project that addresses the issue of childhood hunger. Gabriela & Natalia have partnered with local celebrity chefs and bakers such as Food Network star Emily Ellyn and Jillian from JillyCakes in effort to raise money for No Kid Hungry.
Gabriela & Natalia own Lil Cupcake Girls cupcake business. The Girls bake cupcakes for all types of parties and events locally, in Florida. Their honours, features and appearances so far include:
- Southern Women Show 2014
- Playground Magazine
- My Central Florida Family Website
- Local 6 WKMG
- Good Magazine
- Cupcake Provocateur Blog
- Hunters Creek Magazine
- Chef Eliana Cool Kids Cook Radio Show
- GYSD Ambassadors for Youth Service of America
- Eduzine Global Young Ambassadors
Meet The Girls
Hi, I'm Gabriela!
I'm older than my sister by one minute. You can tell us apart by our different color glasses. I love dance, especially ballet, acro, tap and jazz. I love making cupcakes, and hope to be a professional baker when I grow up. At the age of seven I completed all four adult Wilton's Cake Decorating classes. I Love Baking & Decorating Cakes! I also love
American Girl Dolls, especially Grace Thomas, whom aspires to be a professional baker just like me!
My Fave cupcake flavor: Red Velvet                                                                                                                                                                                                                                                                                                                                                                                                                                                                                                                                                                                                                                                                                                                                                                                                                                                                                                                                                                                                                                                                                                                                                                                                                                                                                                                                                                                                                                                                                 
Hi, I'm Natalia!                                                                                                                                                                                                                                                                                                                                                                                             
I've loved baking since I was little, and would like to make cupcakes one day for the White House. I love all sorts of
things like writing stories and songs, and sports, especially basketball. I love watching TV, hanging out with my friends and meeting new people at our events!
Fave cupcake flavor: Nutella
The team at EduzineGlobal.com is delighted to welcome Gabriella and Natalia to our team and congratulate the girls on their amazing achievements so far. Remember these wonderful young entrepreneurs are only 8 years old! Awesome!!
« Back to all articles
Date: 22-04-2015
Author: Gareth Jones
Source: Lisette Maestre
Comments
---
Leave a comment
All fields are required, to leave a comment.