Shining Lights of Accra Art
Date: 28-02-2014
Author: Rebecca Jardin

Light Bulb Moments All Round For Young Ghanaian Artists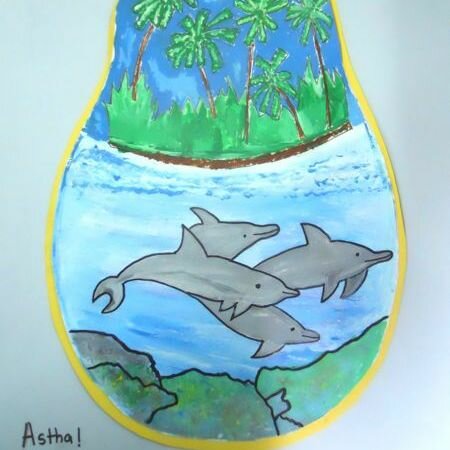 The Grade 7 students at Lincoln Community School, Accra, Ghana, West Africa have been working on their tonal skils with their Toned Light Bulbs. Congratulations to Astha Sood, for being the artist of the week! According to art teacher, Rebecca Jardin, she won this award for her beautiful tonal skills, patience, effort and imagination. This light bulb is beautifully executed.
Mrs Jardin explained;
"The light bulbs are complete and they look brilliant. This has been a very popular project for my grade 7 class because they enjoy the creative element inside the bulb. They were able to create anything they like which caters to all student interests and abilities. There was certainly a great deal of choice with this task because the students not only chose the style and theme of their work but the media too. I loved how some students tried breaking out of the bulb. They were certainly pushing the boundaries even further. The major skill gained through this task other than following the design cycle was to develop tonal skills. Students began by testing out the 2H, HB, 2B, 4B and 6B pencils so that they could understand the difference between them. The easiest way I find to recognize the tones in an object is to count them. 1 being the whites (from the reflected light), 2, 3 and 4 become darker and darker with the shadow often being level 5 or 6."
Mrs Jardin continued "The students practised creating tonal scales so that they could transition between the levels smoothly. At home they set up 3 objects under a light and practised what they learned in class. I wish you could see their first light bulb drawing and compare it to the end result. Next time I will photograph their first drawings for a comparison or maybe use Comic Book or Instacollage on the ipads to document the change/development."
"This was my last week with this group of students and I could not be happier with their results. I will definitely miss them but am also excited to meet my trimester 3 class on Tuesday."
"Thanks for a wonderful trimester, grade 7!"
Mrs Jardin
The full gallery of light bulbs from Mrs Jardin's class can be viewed here.
For more from the fantastic students at Lincoln community School, Accra, Ghana, please visit the school website at www.lincoln.edu.gh
« Back to all blogs
Date: 28-02-2014
Author: Rebecca Jardin

Comments
---
Leave a comment
All fields are required, to leave a comment.