Leslie's Musical Journey
Date: 09-02-2014
Author: Leslie Ashworth

Leslie Ashworth - Teenage Violin Sensation
On April 5th and 6th 2014, 16 year old Leslie Ashworth will be performing the Mendelssohn Violin Concerto in E minor, Op. 64 with the Oakville Symphony Orchestra. This is an incredible achievement for one so young and more information about this event can be found at www.oakvillesymphony.com/the-romantic-violin
The Journey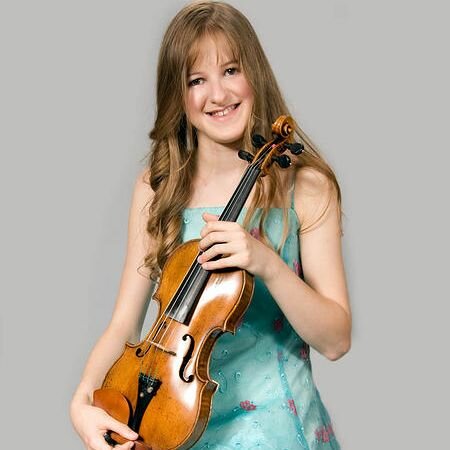 Leslie Ashworth started playing the violin at age 4, making her first appearance on stage at 5. She has studied with Mr. Alec Hou, for the past 8 years. She is a scholarship student of the Young Artists Performance Academy, Royal Conservatory of Music, in Toronto and is now studying with Mr. Barry Shiffman, Associate Dean of the Royal Conservatory of Music. Recently, Leslie made her debut in legendary Carnegie Hall as gold medalist of the 'Passion of Music'. She has also performed in other well-known concert halls such as Koerner Hall, Isabel Bader Theatre, Walter Hall at the University of Toronto, Hamilton Place, Mississauga Living Arts Centre, George Westin Recital Hall, Metro Toronto Convention Centre, Rolston Hall in Banff, Conservatoire de Musique in Montreal, Vancouver Convention Centre, and Convocation Hall at the University of Alberta.
Leslie's goal is to become an internationally acclaimed solo violinist. She has played with numerous orchestras and won the Grand Prize in the Canadian Music Competition. Leslie has produced two CDs, Precious Musical Moments (2009) and A Child's Gift (2012), with a portion of the proceeds going to 'Free The Children'. Leslie has participated in prestigious summer music programs and festivals including the Young Artists Program, Summer Music Institute, of the Ottawa National Arts, the Banff Centre's Strings Masterclass Program, and the Summit Music Festival in New York. She has also been broadcast on Toronto's Classical 96.3FM and Classical 94.5 Buffalo WNED's 'Young Performers' radio program. She has had the honour of playing in many master classes of renowned artists including: Donald Weilerstein, Victor Danchenko, Paul Kantor, Sylvia Rosenberg, Mikhail Kopelman, Leon Fleisher, Brian Lewis, James Ehnes, Soovin Kim, James Boyd, and Lawrence Dutton.
Aside from practicing 5-6 hours a day on the violin, Leslie also enjoys playing the viola (studying with Eric Nowlin) and piano (studying with Dianne Werner), she has completed her ARCT Piano Performance. In addition to her classical studies in violin, viola and piano, Leslie is studying jazz piano. She has also studied Celtic fiddling, in Cape Breton Island, Nova Scotia. As well, she loves playing chamber music with other musicians her age in the Young Artists Performance Academy. Composing is another of Leslie's favourite ways of expressing herself, creating over 25 original pieces.

Leslie is actively involved with numerous fundraisers, many of which support local musical initiatives with a special connection to children. Leslie likes to play with her younger sister Kristen, older brother Greg and dog Melody, dance ballet, play tennis, swim, ski, cook, and read musical novels. Leslie currently plays on an 1779 Josef Odoardi violin on generous loan from the Banff Centre.
See Leslie performing Mendelssohn Violin Concerto, Op. 64, 1st Movement in Mazzoleni Concert Hall, RCM Toronto, Ontario, Canada on December 18, 2013 here.
Visit Leslie at: www.leslieashworth.com
« Back to all blogs
Date: 09-02-2014
Author: Leslie Ashworth

Comments
---
Leave a comment
All fields are required, to leave a comment.