Sweet Success For Volunteer Trevis
Date: 31-01-2016
Author: Trevis Belle

Trevis Belle Is Making A Difference Everywhere
Eduzine Global is proud to introduce a young man from the Caribbean island of St.Kitts, who is sweetness personified on the island known locally as 'Sugar City'. Trevis Belle is our latest Eduzine Global Young Ambassador and our first Caribbean Ambassador. Trevis told EduzineGlobal.com about his amazing work:
Introducing Trevis
Hello, my name is Trevis Belle I am 19 years old and I am from the beautiful Caribbean island of St. Kitts, which is dubbed 'Sugar City' due to its sweetness! I play the Saxophone & Steelpan as they are my two favorite instruments! I enjoy listening to Soca music, Wilders, Reggae & Dancehall (due to my Caribbean culture). I enjoy playing volleyball & tennis as well! Travelling is also one of my favorite hobbies as I enjoy visiting & meeting new people and seeing new places. I enjoy Sugar Mas (our name for our Carnival) as it allows us to be free and enjoy the festivities the season has to offer. 
I am an Accountant by profession but Volunteer by heart. Growing up in one of the rural communities of St. Kitts motivated me to create something that can add positivity to not only my life, but the lives of others within my community. So on the 5th January 2014, I created the volunteer group called MADE – Making A Difference Everywhere. When I started the group, I recruited 3 of my childhood friends whom also shared my vision of making a difference & giving back to my community. Through MADE, we've been involved in many community activities. One of many of our achievements is expanding to 3 other Caribbean islands in 2015: Trinidad, St. Lucia & Grenada within 4 months as a result of me networking at a Volunteer program in St. Lucia. 
The MADE Movement!
What is MADE? Well MADE  is more than 4 letters, it stands for something more! The acronym MADE stands for "Making A Difference Everywhere" as the name stated, the members of  MADE aim to bring change where ever they go!
MADE came about when I, Trevis Belle, decided that it's never too late to make a difference, so I declared 2014 as the year to make a difference within someone's life, whether via a community change or on a personal level. I then decided I would require a responsible, creative, dedicated and determined group of individuals to journey on this venture with me. I then reached out to 3 friends with whom I had grown up with in the same community. Fortunately, they really liked the idea and agreed to assist with MADE – thus the creation of MADE, which started with just 4 persons.
Motto of the Organization
MADE – Making A Difference motto is "We MADE the decision, to Make A Difference Everywhere."
Vision of the Organization
To become a stable and well-known active volunteer group within the island of St. Kitts and beyond.
Aims of the Organization
To bring together and foster a strong understanding about volunteering amongst young people from the diverse communities in St. Kitts.
To promote recreational activities, mutual support and joint aid among our members.
To establish a regional network of MADE Youth Groups across the Caribbean.
To strengthen the voluntary and community sector, build bridges with other sectors, and influence local and national policy;
To support local voluntary action by local people, working in partnership with other support organizations and with the public and private sectors.
As of December 2015 – MADE has impacted over 1,500 persons' lives and has branched out to 3 other Caribbean islands (Trinidad, St. Lucia & Grenada) where regionally we have more than 100 volunteers!
For more information about MADE, visit the awesome MADE Website  
Recognition For Trevis 
In addition to receiving the honor of becoming an Eduzine Global Young Ambassador (the first from the Caribbean), I've been recognized locally, regionally and internationally for my volunteer work. Locally, I've been labelled as one of the '25 Most Remarkable Teens', regionally; I am one of the CARICOM Youth Ambassadors for my country and internationally; I am a part of the Three Dot Dash Global Teen Leaders Class of 2016 – also making me the first person from the Caribbean to receive such an honor. I am extremely passionate about volunteerism as I see it as a way to develop oneself physically, mentally, socially and emotionally. I use my experiences to motivate & inspire others to partake in volunteer activities.
By Trevis Belle
The team at EduzineGlobal.com is delighted to welcome Trevis and to congratulate him for some amazing achievements. Trevis is also a very worthy 'Global Teen Leader 2016' for our coalition partner Three Dot Dash.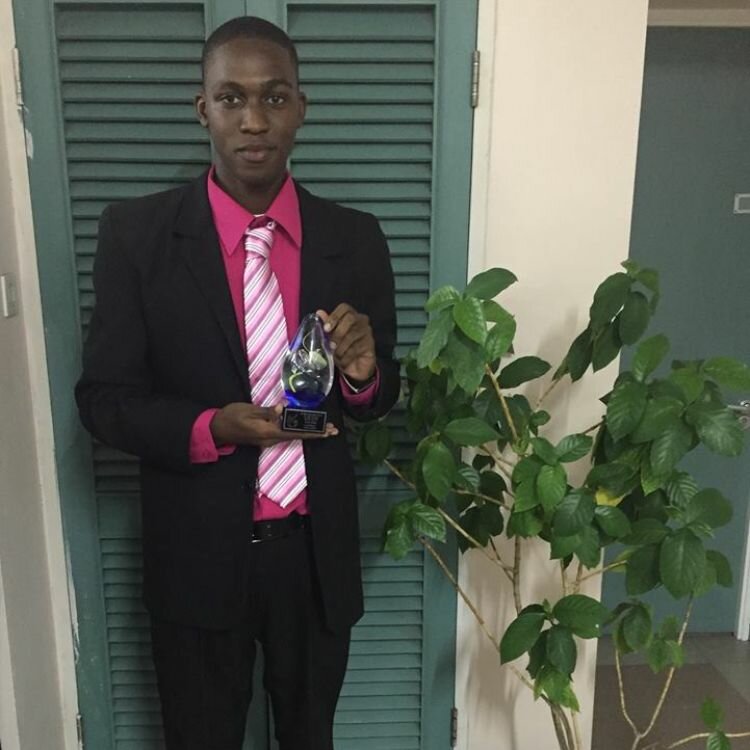 « Back to all blogs
Date: 31-01-2016
Author: Trevis Belle

Comments
---
Leave a comment
All fields are required, to leave a comment.