The Godfather's New Clothes
Date: 07-05-2014
Author: Alfie Green

Teenage Author Sets Brilliant New Standard For Crime Novels
I'm Alfie Green and I'm18 now. I started writing 'The Godfather's New Clothes' when I was 16. I always felt most alive telling stories and listening to them as a child. However, due to a bit of general struggling with mental co-ordination (dyspraxia) and the general concept of school, I didn't really bother with reading of any sort for the first decade or so of my life. It was when I got my mum to read the whole of the fourth instalment of Darren Shan horror series (The Vampire Saga) that we communally decided I should take a shot and making use of these letters myself. My audiotape collection was becoming a bit of exhausted as well- with my seventh listening of this audiotape I'd found on Dad's shelf once, 1984, recently concluded.
So somehow it happened - In the space of about of a week I'd read the fifth vampiric instalment back to front. I don't know how I managed to start reading so quickly, but it seemed like once I actually found enjoyment and use in the skill it came not exactly easily but after a kind of banging-head-against-the-sentence technique, remarkably quickly. The more and further I read, the more I wanted to become part of the writing community myself- to spark up and brighten the lives and minds of others in the way writers as diversely spread as Atwood, Orwell and children's author Patrick Ness had done for me. Growing up and living in London gave me an intense interest in modern people and media - and how they interact with each other in art and their everyday lives. I started actually writing down short stories about five years ago. At first it was difficult to get everything out in a recognisable form, but I kept going back and reading the work of other writers to guide and inspire me, starting to focus on more lucid writers throughout history for this very reason- mostly poets like Milton or Blake. And nowadays I can normally manage a vaguely cohesive chapter! So, for about three years now I've been getting up two hours before school and just writing, normally with some kind of vague focus. Its like breakfast now - I need a good bit of morning imagination to sustain my day! By the start of this year (2014) I'd written a few scraps and novels, but 'The Godfather's New Clothes' is the first one I've completed so far that I think does full justice to my original idea. The book is about a high-stakes gambler, Dennis Hemlock, who impersonates a member of the mafia after they kidknap his family. I was interested in the idea of spontaneity as an emotional and mental phenomenon. I wanted to write a thriller that got to the very heart of why we like thrillers. Why certain people get such irresistible temptations to break out of our normal routine and go crazy essentially- or at least live out in a romping film or book. I know I get that feeling sometimes! A big city like Los Angeles jampacked with the bright lights and the internet seemed like the perfect setting, along with its quintessential West Coast 'Americaness'- which I thought works very well with my interest in this 21st Century itch for excitement. At its heart of course The Godfather's New Clothes is about family - in terms of my protagonist Dennis' commitment to his real wife and child and of course the mafia crime family he infiltrates to track down this lost real family. I wanted to help people look over the edge of how our human psyche is developing at the beginning of this new millennia, and be entertained while doing it. To allow readers to rediscover the family and explore this new itch for excitement we all have is what 'The Godfather's New Clothes' aims to do - and now I'm delighted that as an ebook on Amazon, its able to do that.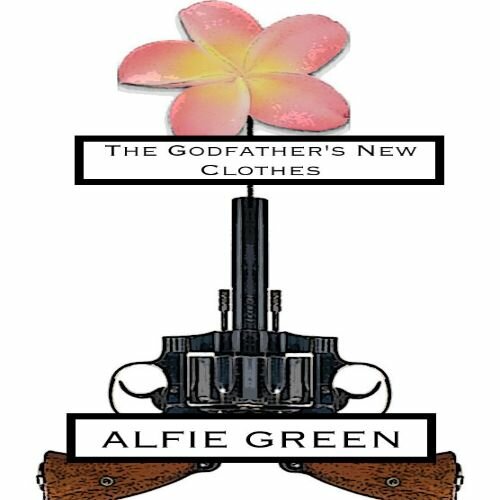 Here's an excerpt from The Godfather's New Clothes', establishing the protagonist of the novel, Dennis Hemlock;

"So when I awake on December the 26th my family are gone. The first thing I notice is that the fridge has been emptied and my cheek is on the hard floor. And there's a clump of dog crap were the Cheesoes used to be, in the fridge. And my family have deserted the Los Angeles apartment. And I see that this is bad. My pot odds on reality here are at least sub-50%. Ever since I was a child I've craved death. Well not death, to be exact. More the possibility of it. The dark against the light of life. Like that cold metallic zing just out of sight when tasting a particularly good chilli. Dad used to take me to see Nottingham Forest on the weekends, and my hand would twitch like a puppet towards the door handle. Especially on motorways, like my fist would explode into flames if I didn't jump out right now. My head would feel vague as well, like it was going to faint and leave the rest of me behind. Kind of possessed- but it wasn't scary."


Anyone who wants to hear from me can also sign up to my free newsletter, looking over the edge of media, crime and politics, by emailing [email protected]. I'll be lining up some special offers through this newsletter soon as well!


Alfie's e-novel is available from Amazon at a cost of just £1.53 and at that price is an absolute bargain for this MUST have piece of literature. The book is an exciting, raw, stylish crime thriller which hooks the reader and in short is an immensely enjoyable read. Congratulations Alfie, from all at Eduzine Global.

« Back to all blogs
Date: 07-05-2014
Author: Alfie Green

Comments
---
Leave a comment
All fields are required, to leave a comment.