Young Auckland Artist Triumphant
Date: 18-02-2014
Author: Paula McArthur
Source: IHC New Zealand
Young Artist Wows Judges And Online Fans
In a double win, Auckland artist Jordan Weng Kam Chow, 17, has won first prize and the People's Choice Award in the IHC Art Awards 2013 with his painting Donkey and Brachiosaurus. Judges selected his acrylic and pencil work from more than 450 entries in three regional exhibitions. After a hard-fought battle, he was also the online favourite on IHC's facebook page. At the close of voting, Donkey and Brachiosaurus won 549 votes.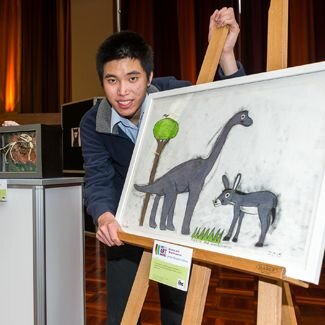 Jordan, of Avondale, Auckland, was presented with the top prize of $5000, plus $1000 for the People's Choice Award, at an awards ceremony and live auction at the Michael Fowler Centre in Wellington. Amazingly, it is the first time Jordan has entered the competition. Jordan attends Green Bay High School, in association with Oaklynn Special School. He does his art in an after-school class for teenagers at the Spark Centre of Creative Development in Mt Albert, Auckland. He has been attending art classes at Spark for the past year and has a special interest in African animals and dinosaurs. His tutors say his work is meticulous, with a great attention to detail.
Judge Denise L'Estrange-Corbet, co-head of WORLD fashion, says: "I am always honoured and humbled to be asked to be a judge at the IHC Art Awards, as it means I get to see so many wonderful works all together! The IHC Art Awards is an opportunity for artists from all around the country to express themselves exactly how they like. The many hours of love and dedication that has gone into these works can really be seen – and how much the IHC art awards means to them," she says.
Fellow judge, Wellington cartoonist Cory Mathis, says Donkey and Brachiosaurus has an immediate resonance. "The thing with the dinosaur is that everyone has an inner child that it always connects with. It just creates something that makes you smile. And then there's the donkey. What are they doing there together? It makes you wonder. But at the same time you are happy to see it because it creates such a mix." Cory is the Young Cartoonist 2013 winner. Boh Runga, musician and jewellery artist and the third judge says it was a tough call to select a winner. "All the finalists were wonderful in so many ways, but the charm of the brachiosaurus and donkey won us over."
Second place and $2000 went to Andrea Nowell-Usticke of Clive, for her painting Deer and Lady, inspired by The Snow Queen, a fairytale from Hans Christian Andersen. Third prize and $1000 went to Melania Smith, aged 20, for an intricate shadow box installation featuring a civet overlaid by its skeleton, called Civet Box. The winners were picked from the top 30 entries submitted to regional competitions in July and August 2013.
The IHC Art Awards started in 2004 to showcase the talents of people with intellectual disabilities. They are open to all New Zealanders 13 years and over with an intellectual disability. The artists receive 100 percent of the sale price for their works. 
The art works can be viewed on www.facebook.com/IHC.New.Zealand
« Back to all articles
Date: 18-02-2014
Author: Paula McArthur
Source: IHC New Zealand
Comments
---
Leave a comment
All fields are required, to leave a comment.