Hasib's Outstanding Achievements
Date: 27-09-2014
Author: Hasib Muhammad

Hasib Muhammad - A Teen With A Very Impressive Profile
Hasib Muhammad is a teenager with very little time on his hands. He is leading on so many different agendas in Atlanta, Georgia, USA, all of which individually would be incredible, but together they make awesome reading. Hasib takes us through his very impressive professional profile:
Vice-President of Engagement
Greening Forward
November 2013 – Present (Greater Atlanta Area)
Greening Forward serves more than 2,000 young people directly by providing them the tools and resources they need to take their environmental campaigns to the next level. With the support of over $50,000 in mini-grants from Greening Forward, our +110 curriculum resources, our Young Environmentalists Youth Summit, and mentorship, our youth have led projects that have impacted 10,000 other community members, planted 500 plants and 300 trees, recycled 120 tons of waste, monitored 11 streams, installed over 200 rain barrels, built over 80 compost bins, and saved over 300,000 gallons of water here in Atlanta and across the nation.
Youth Advisory Board MemberState President
The National Beta Club
March 2014 – Present (Georgia)
I lead the largest Beta Club state in the United States. The National Beta Club (in celebratory mood in the picture) has become the nation's largest independent, non-profit, educational youth organization. We are committed to recognizing and promoting high academic achievement, rewarding and nurturing worthy character, fostering leadership skills and encouraging service to others.
State Farm
January 2014 – Present 
The State Farm® Youth Advisory Board (YAB), made up of 30 amazing 17-20-year-old students from across the United States and Canada, is passionate about changing the world of education and impacting student achievement. State Farm pledges $5 million per year to this signature philanthropic initiative to address issues important to State Farm and communities across the United States and Canada. The Board is made up of an amazing, diverse group of students selected from applicants across the United States and Canada. They are full-time students at high schools and universities from Alabama to Ontario. Each member commits about 15 hours a month to the Board and participates in three face-to-face meetings per calendar year.
Tutor
Kumon
August 2014 – Present (Greater Atlanta Area)
I grade assignments and tutor students in all levels of mathematics and reading.
Roots & Shoots National Youth Leadership Council Member
The Jane Goodall Institute
December 2012 – Present
During their one year term on the Council (renewable up to 12th grade), Youth Leaders participate in conference calls and webinars twice per month with Roots & Shoots staff and field experts. Meetings consist of project planning sessions and unique professional development and skill building seminars designed to connect Youth Leaders with community leaders and influential change-makers working in relevant fields. I also blog for Roots & Shoots. The picture below shows Hasib in discussion with a delegate after one of his presentations.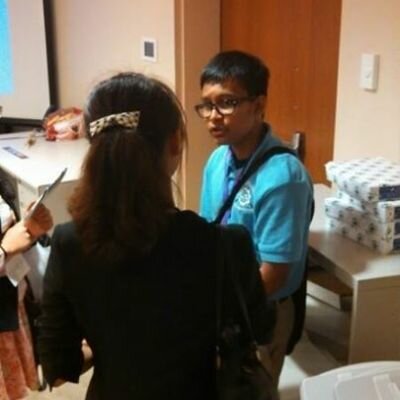 National Youth Advisory Council Member
Keep America Beautiful
July 2013 – August 2014
Chosen as one of ten young Americans to serve on the Youth Advisory Council (YAC). The YAC creates a framework for youth engagement with Keep America Beautiful (KAB), infusing the youth voice into KAB's programs and building on the model of youth leadership seen in KAB's local and state affiliates. Through the generous support of the Wrigley Company Foundation, YAC members will be able to partner with like-minded youth with unique perspectives from across the country and learn about approaches for engaging youth in community service.
Program Director
Greening Forward
April 2012 – November 2013 (Greater Atlanta Area)
As Program Director, I work to provide oversight to the program management and development for Greening Forward. I work to develop interactive and engaging curriculum that fosters a desire for environmental engagement. I am also in charge of Greening Forward's Instagram presence.
Summer Communications Intern
VolunTEEN Nation
June 2013 – August 2013
I work with youth, college students and VolunTEEN Nation Board Members to generate ideas to promote the site. I communicate with diverse non-profit organizations nationally and collaborate with the VolunTEEN Nation team to achieve national expansion goals. I build effective relationships with school districts and leaders in communities throughout the United States, and I frequently write blogs about service ventures for the site.
Teen Advisory Board Member
Gwinnett County Children's Shelter
May 2012 – April 2013 (Greater Atlanta Area)
The Shelter's Teen Advisory Board consists of high school youth that provide our agency with feedback and direction, giving our agency a strong youth voice about the services we provide. They also provide our residents with positive, fun interaction with other teens, as well as carrying out service projects throughout the community together. Our Teen Board works hard to promote all the positive things that youth are doing in our community and are big part of the hope we give to our residents. This Board is completely youth led. They interview and select their own candidates, lead and carry out their own service projects and decide how the group operates on a day-to-day basis.
Environment and Land-Use Committee Chair
Model Atlanta Regional Commission
October 2012 – February 2013 (Greater Atlanta Area)
MARC participants learn about past, present and future regional issues from both community leaders and ARC experts. The students learn about the challenges of transportation, air quality, human services, land use, water supply and quality. Using that knowledge, students explore regional issues in committees and develop possible solutions to challenges. At their final meeting, patterned after an ARC Board meeting, they present and vote on the resolutions they have drafted to create a stronger, healthier Atlanta region. The students then present their resolutions to the ARC Board for consideration.
Public Speaking Engagements
Hasib also has a long list of highly creditable speaking engagements to his name:
TEDxYouth@TheBeltline speaker, 2012 -- Atlanta, Georgia
International Young Environmentalists Youth Summit keynote speaker, 2013 -- Buford, Georgia
TEDxMercerUniversityChange speaker, 2013 -- Macon, Georgia
TEDxYouth@ColumbiaSC speaker, 2013 -- Columbia, South Carolina
Roots & Shoots National Youth Leadership Council Retreat workshop presenter, 2013 -- New York, New York
United Nations Youth Assembly workshop presenter, 2013 -- New York, New York
TEDxYouth@Lincoln speaker, 2013 -- Lincoln, Nebraska
Dacula Remembers 9/11 Day of Service speaker, 2013 -- Dacula, Georgia
TEDxRedmond speaker, 2013 -- Redmond, Washington
TEDxSpringfield speaker, 2013 -- Springfield, Massachusetts
Global Citizenship Action Project Conference speaker, 2013 -- New York, New York
TEDxWCSU speaker, 2013 -- Danbury, Connecticut
Keep America Beautiful National Conference workshop presenter and panelist, 2014 -- Charlotte, North Carolina
TEDxYouth@Hronda speaker coach, 2014 -- Hronda, Belarus
TEDxAmanaAcademy speaker, 2014 -- Alpharetta, Georgia
TEDxBurnsvilleED speaker, 2014 -- St. Paul, Minnesota
NWF-AWC Youth Conservation Leadership Summit speaker, 2014 -- Atlanta, Georgia
TEDxYouth@LakeVilla speaker, 2014 -- Lake Villa, Illinois
TEDxBangorUniversity speaker, 2014 -- Bangor, Gwynedd, Wales, United Kingdom
TEDxYouth@NAHS speaker, 2015 -- New Albany, Ohio
TEDxTuscaloosa speaker, 2015 -- Tuscaloosa, Alabama
Awards & Honours
Not surprisingly Hasib has many awards and achievements to celebrate in his illustrious young career:
National AP Scholar
College Board
August 2014
Granted to students in the United States who receive an average score of at least 4 on all AP Exams taken, and scores of 4 or higher on eight or more of these exams.
Academic Letter
May 2013 - Awarded to those who keep a 4.0 unweighted GPA.
Gwinnett Student Leadership Team 2013
Georgia Hugh O'Brian Youth Leadership Seminar ambassador  June 2013
Spring Program Fellow
The Sierra Club Global Population and Environment Program January 2014
UGA Certificate of Merit
University of Georgia May 2014
The Georgia Certificate of Merit Program recognizes the top 5% of students in the Junior Class (Class of 2015).
Joint Science Education Project
Arctic Research Consortium of the United States May 2014
The expedition members (pictured) visited several research sites in Greenland as part of an initiative to foster enhanced international scientific cooperation between the countries. The expedition members spent several days learning about the research conducted in Greenland, the logistics involved in supporting the research, and gain first-hand experience conducting experiments and developing inquiry-based educational activities.
National Merit Semifinalist
National Merit Scholarship Corporation September 2014
In early September, about 16,000 students, or approximately one-third of the 50,000 high scorers of the PSAT, are notified that they have qualified as Semifinalists. To ensure that academically talented young people from all parts of the United States are included in this talent pool, Semifinalists are designated on a state representational basis. They are the highest scoring entrants in each state.
Additional Honors & Awards
Gifted Student of the Year, 2008
Perfect Score on Academic Promotion Writing Test, 2008
Perfect Score on Academic Promotion Writing Test, 2010
Scholastic Art and Writing Awards - Honorary Mention for Humor, 2013
Georgia Beta Club Convention - 2nd Place for Quiz Bowl, 2013
Georgia Beta Club Convention - 3rd Place for Officers' Service Award, 2013
American Public Transportation Association Youth Summit, 2013
Piggybackr's 1 Million Leaders Challenge judge, 2013
Perfect Score on Georgia High School Graduation Writing Test, 2013
Summary
It is difficult to put into words that offer the appropriate and deserved level of credit, what Hasib has achieved at the ripe old age of 18! Without doubt this young man will be a huge influence on improving our world over the years ahead. Hasib is also an awesome role model for young people across the globe and rightly deserves to be congratulated on his incredible achivements.
Huge admiration and congratulations, Hasib, from all the team at EduzineGlobal.com
« Back to all blogs
Date: 27-09-2014
Author: Hasib Muhammad

Comments
---
Leave a comment
All fields are required, to leave a comment.